Rotterdam viert de stad!
Rotterdam Festivals
180 steps to the roof of the Groothandelsgebouw
In 2016, Rotterdam celebrated 75 years of reconstruction with a cultural event. We celebrated the city with flags on the bridge, a Ferris wheel and big babies on buildings. In addition, we also celebrated this phenomenon with television programs, pop-up stores and of course with De Trap, which stood against the Groothandelsgebouw, next to Rotterdam Central Station. It was designed by the MVRDV architectural firm and had 180 steps! 






VKOZ added two campaigns
To celebrate 75 years of reconstruction, a full-year program was developed, with everything revolved around 75. After half a year, the project group noticed that things were not going well in the city. For this reason, they asked VKOZ for help. We developed two campaigns: 
Ik viert de stad! This was a call for people organizing an event in the city. They were able to join in and we mainly offered free publicity. We provided promotion material, a special website where their event was mentioned, but they had to make a link with the reconstruction. More than 18 events hooked up, such as Stadsfestival Op z'n Rotterdams, special Mother's Day concert by RJSO in de Doelen, Scapino Ballet and Miniworld.  
Jouw verhaal. This campaign was all about a story competition, where people could submit their story and the three best stories won a prize. The main prize was an overnight stay in De Euromast! We had a storybook where these stories ended up in. The story competition encouraged people to put their unique Rotterdam story on paper.
Celebrating 75 years of reconstruction of Rotterdam
De Trap was a very big success and even known abroad. Unexpectedly, the Ferris wheel also became a great success, which we placed at the Markthal later. With more than 100 projects, Rotterdam celebrates the city! 10 million people trough social media and 799,000 visitors. Partly thanks to our campaigns, De Trap and the Ferris wheel, where De Trap was best known and has reached many new platforms. We celebrated the city of Rotterdam well, where reconstruction was central.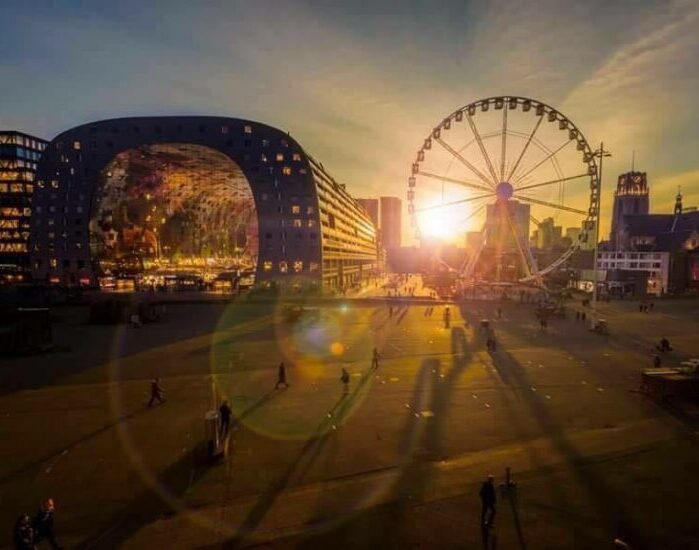 The Ferris wheel at the Markthal
"Rotterdam, please remain a never ending story.."
NRC
In recent years we have organised live online and hybrid events in Rotterdam, the Netherlands and abroad.
Want to know more? Get inspired: