Marathon Rotterdam
Like2Run
Biggest sport event in the Netherlands
The Marathon Rotterdam is the largest annual and one-day sporting event in the Netherlands and is broadcast live on NOS every edition. The marathon weekend takes place in April and is a mix of (top) sport and folk festival with 925,000 visitors, which was made possible in part by 1,800 volunteers.
VKOZ's role was to work with the final producer of the event and to coordinate the film De Marathon. VKOZ was asked to do this in 2012 and after that we were able to coordinate three editions.






Sport combined with a lot of fun
During the marathon there is a lot of attention for the runners and safety during the entire event. Maintaining safety is done by, among other things, traffic controllers. The amateur runners start with (our) Lee Touwers and there is a lot of fun throughout the day. The runners finish on De Coolsingel with lots of music and acquaintances cheering them on from the side lines. This makes it a big party every year.
During the 2012 edition, the movie De Marathon was filmed. Diederick Koopal was the director of this. During the recordings, the actors regularly walked along and the famous finish scene was also recorded during the event.
Successful support of running events
For both VKOZ and the end producer, the cooperation has been experienced as positive. All parties were happy to help with the typical Rotterdam film and it was very successful. Because of the good cooperation, we have also supported other running events for several years. Over the years, De Marathon has only grown bigger, mainly due to the programme around it, and it is now the 5th fastest marathon city in the world!
"You'll never walk alone."
Gerry & The Pacemakers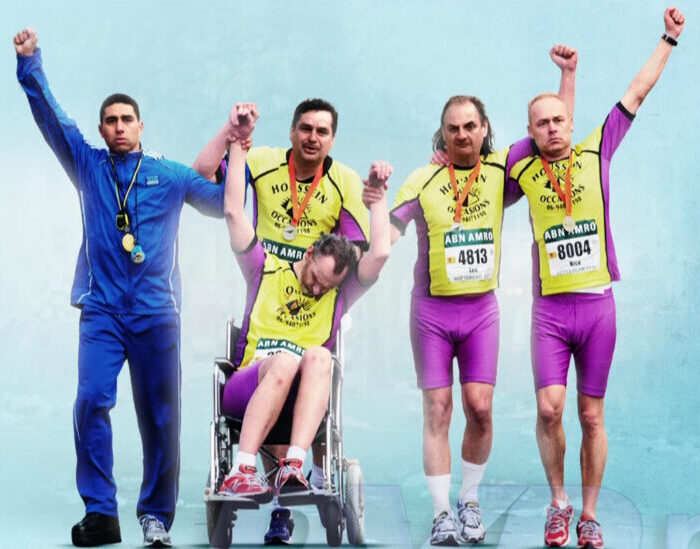 Did you know...
The film De Marathon was filmed during the 2012 edition, without the participants and spectators knowing anything about it? The well-known finish scene was also recorded on this day!
In recent years we have organised live online and hybrid events in Rotterdam, the Netherlands and abroad.
Want to know more? Get inspired: