CHIO Rotterdam
Founding CHIO
Five years of producing a 5 star event
Concours Hippique International Officiel, abbreviated CHIO, is an international multi-day jumping and dressage competition at the highest level in equestrian sports. This event takes place annually in the Kralingse Bos in Rotterdam. In 2012 former TV producer Hans Heesterbeek asked VKOZ for coordination during the construction and the event itself. We have worked together on this major production for five years.

Relation and sports event





More than just equestrian sports
The CHIO is more than just equestrian sports; there is also a lot of attention for conviviality, business networking, fun for kids, shows, shopping and entertainment. Also known as the famous Stroodorp. In addition, the NOS does a live report and the event is broadcast on television for the lovers. The Royal Family and other VIPs visit the event as a personal outing.  
To be able to realize this four-day 5-star event, we work on the organization throughout the year and the construction starts two months in advance. In addition, we need many volunteers and sponsors to provide the facilities.  
At the event itself there is one person who coordinates from the central post and is in contact with 12 divisions. This was Marjolein from VKOZ. For example, we ensured that there was good communication with divisions such as hospitality, security, first aid, stables, cleaners and catering. Aafje was present with golf carts for the disabled; they ensured that people could be transported to the event location.
A special experience richer
We are proud of all parties who worked on the event with enthusiasm and pleasure. They made sure everything went smoothly. Both Hans and we believe it is important to invest in relationships with all different parties and to treat them well. This way everyone enjoys their work. Despite a complicated and large production to make this 5-star event a reality and responding to elements such as the weather, we are proud to have participated and gained an experience. This means that we can also produce an event for business events at any location.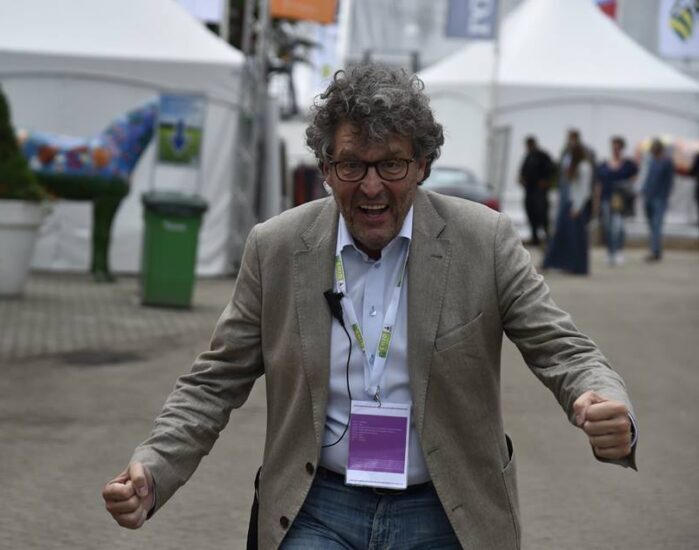 VKOZ supported Hans Heesterbeek with the coordination of the CHIO.
"It's good to work with you and we think it's great how you master everything within 1 day in a production that is almost ready. Really good!"
Marielle Franken, CHIO
In recent years we have organised live online and hybrid events in Rotterdam, the Netherlands and abroad.
Want to know more? Get inspired: