Underwater Minerals Conference
IMMS
51st edition takes place in Rotterdam
Underwater Minerals Conference (UMC) is an annual international forum with representatives from more than 25 countries. Since 1970, UMC has been bringing together the ocean minerals stakeholder community. Several important topics are discussed during this annual event. The 51st edition is presented by the International Marine Minerals Society (IMMS) and will take place from 1 to 6 October 2023 in Rotterdam. VKOZ has been asked to act as PCO in Rotterdam for this conference.






Two beautiful locations in Rotterdam
We have chosen to organize the conference in the Inntel and Mainport Rotterdam, so that participants from all over the world can also stay in the hotel here. The hotel is also centrally located and there are plenty of dining options nearby and opportunities to spend your free time. With a beautiful view over the Rotterdam skyline, the 200 participants follow the many sessions on the 15th and 16th floors during the week.
On Wednesday the participants go to the SS Rotterdam. During drinks in the La Fontaine room, participants could present and view posters. After this, the participants moved to the Odyssey room for dinner. The starter and dessert were shared and each plate contained a Rotterdam souvenir.
An excursion as a conclusion
To end the week, the participants have a field trip on Friday. In the morning, the participants board a ship to sail through the port of Rotterdam. During this tour the guide will provide information about the history of the port and water management.
After lunch, the day will end with a tour of IHC Kinderdijk, where the construction facilities can be viewed.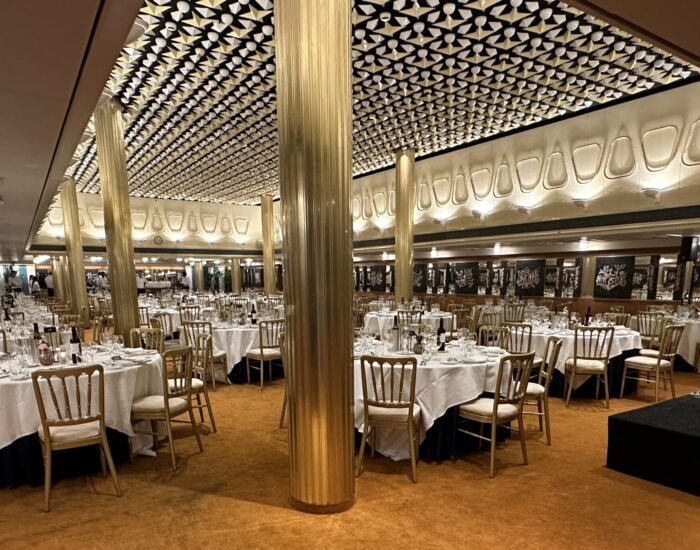 Odyssee room on the ss Rotterdam
"Thank you and the team for a brilliant conference. I found it one of the most
productive conferences for a long time."
Participant - Underwater Minerals Conference
In recent years we have organized live online and hybrid events in Rotterdam, the Netherlands and abroad.
Want to know more? Get inspired: