Global Forum Vienna
Council of International Schools
Participants all over the world come together
VKOZ organised the annual Global Forum on International Admission & Guidance for and together with the Council of International Schools. In 2018 we organised this in the Austrian capital Vienna. We rented the Austria Center Vienna for this. From November 7 to 9, 900 international schools and universities from 116 countries around the world gathered.






Austria's most beautiful location
In order to offer the participants a diverse programme, we organised the following, among other things: a musical opening, 42 several workshops, two fairs, three award ceremonies and three networking receptions. We organised one of these receptions in Das Rathaus. This beautiful monument was built between 1872 and 1883. Visitors were transported here by bus from the Austria Center Vienna. The opening reception was held in the Festival Hall, which is 71 meters long and almost 20 meters high. Michaela Rabitisch's band also performed: singer, composer and best female jazz trumpeter in Austria! 
We had contracts with several hotels throughout the city. The ACV is near a metro station. When the participants got off here, it immediately became clear which way they had to go because of the LED screens at the station and the stickers on the street in event branding by CIS.
Increase your impact with an event app
We had developed an app for this event so that participants had an overview of the extensive programme and the map. Participants could also connect and chat with each other in the app. It was also possible to share photos on social media, which were shown at the event. Participants also received various notifications from the app. In addition, data could be retrieved with which the ROI could be determined after the event.  
We paid a lot of attention to communication: before, during and after the event. The online communication was shown on a large screen that also featured the timeline of Facebook and Twitter. When participants posted a photo, it was shown on the screen. The communications staff were actively working to make use of this by sharing content on social media. We also asked people to take nice pictures with the shoebag, which we gave away as a gadget to all participants. We at VKOZ are proud to have been able to organise this grand event for CIS.
"Thank you for all your support, guidance, eye for detail and your reliability."
Willemijn Nieuwenhuys - CIS Global Forum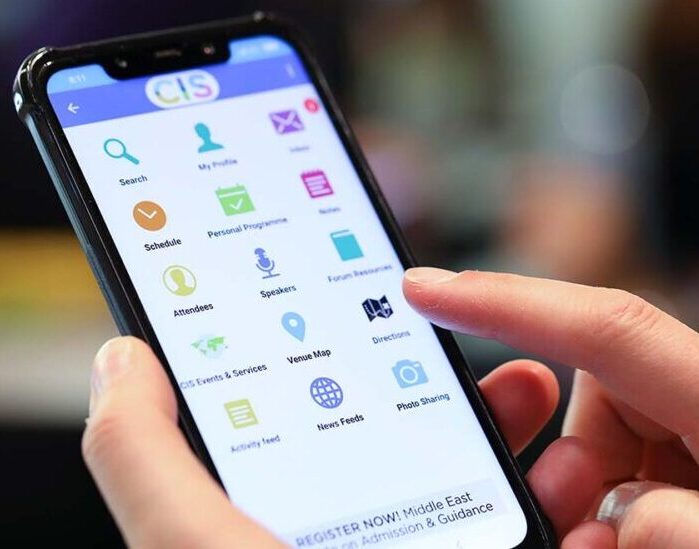 Did you know...
You can increase the impact of your event through the event app? This way, you can also let visitors to your event participate online and it will run much more smoothly.
In recent years we have organised live online and hybrid events in Rotterdam, the Netherlands and abroad.
Want to know more? Get inspired: