Day for Managers
De Rechtspraak
Central location for managers from around the country
De Rechtspraak protects rights and freedoms. It stands up for the democratic rule of law, ensures proper application of the law and decisions by independent, impartial, honest and expert judges.  
The Day for Managers takes place every year, this year in Maarssen. A central and unique location has been chosen, taking sustainability into account. De Rechtspraak has asked VKOZ to organise the event from start to finish, including finding all speakers and compiling the substantive programme. The aim was to unburden them as much as possible.






Connecting participants with inspiration and humour
It is important for De Rechtspraak to pay attention to sustainability: we have taken this into account by choosing the location, catering and the use of public transport with the use of shuttle buses. In addition, interactivity was important because in person contact had hardly taken place in two years due to Covid. Between both existing and new colleagues, we achieved this in a surprising way with a lot of humour. The lounge setting at the location also helped, which stimulates contact and also offered opportunities for outdoor activities. For example, fencing and the dragon boat race.  
The improvisational actors contributed to this to a large extent: in addition to a nice welcome, they provided people with a lot of humour. Inspirational topics were chosen during the eight workshops; six workshops took place indoors and two outdoors. The guest speaker of this day was Karim Benammar with the subject of his presentation 'Radically different thinking', which was not only very inspiring but also humorous and connecting. He did the opening and the closing together with the improvisational actors.  
Inspirational and interactive keynote speaker
During the opening in the plenary hall, participants filled in cards in response to questions from Karim. These were read through and hung outside for all to read. At the plenary closing, the cards were discussed, and inspiring answers were obtained. This was a nice way to get content.  
The participants thought it was a successful day with combination of workshops with a lot of information and sportsmanship. We were able to make optimal use of the location due to the beautiful weather: participants could have lunch outside and the two workshops took place outside. The improvisational actors were able to connect many participants and new people got to know each other. De Rechtspraak hopes to be able to organise the event annually at just as beautiful locations as InnStyle.  
"Thanks to Marjolein van Rosmalen, who made sure everything was well organised behind the scenes. Everyone's reactions and fun made it a wonderful day! "
Marlies Rijnbergen - De Rechtspraak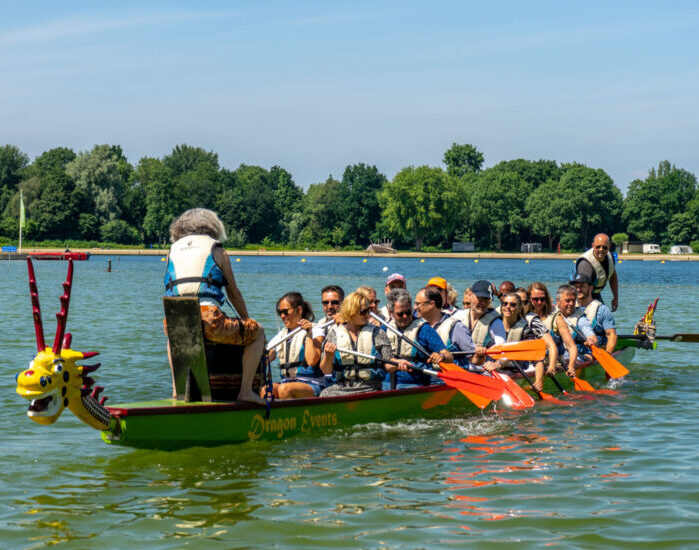 Did you know...
You can do a dragon boat race as a team building activity? You learn to work well together and it's fun too! 
In recent years we have organised live online and hybride events in Rotterdam, The Netherlands and abroad.
Want to know more? Get inspired: