Rotterdam first of Mobike in the Netherlands
Mobike, the world's first and largest provider of shared bicycles, started a pilot in Rotterdam in November 2017. A phased approach was chosen, in which 150 bicycles were initially placed. The aim of the pilot was to intensively monitor the use of the high-tech bicycles, based on which the set-up could be tailored as much as possible to the wishes of users and other stakeholders in Rotterdam. Mobike has chosen Rotterdam because of the international and enterprising character of the city and the no-nonsense mentality. In addition, Mobike works well with the municipality and other stakeholders to take into account the different interests and local wishes.







Orange merchandise throughout the city
VKOZ was approached by Public Matters from The Hague, 'a public affairs & lobbying consultancy specializing in the policy advocacy and strategic communication'. They were looking for a local partner to launch the Mobike bikes in Rotterdam and put us in touch with Mobike's International Expension team from London, with whom we have worked. Because we still had an office in the middle of the Coolsingel at the time, this was the ideal place to start a promotion day, which took place on 23 December.  
We had put together a promotion team through another company that rode through the city on Mobike shared bicycles. They handed out Christmas hats and other giveaways, such as coupons for 20 free rides to try out the Mobike bike.
Mobike goes viral with #MobikeSanta
We also went to work online to promote the shared bicycles: a #MobikeSanta promotion was running through social media, with which participants had a chance to win free bicycles for a year. The promotion also resulted in beautiful photos of Rotterdam! The team had a social media frame where everyone who got a present had their picture taken. By promoting Mobike both online and offline, we have ensured the largest possible reach. We did this mainly by having the promotion team distribute merchandise and make good use of communication to the people.
On social media, the hashtag #MobikeSanta went viral!
"Rotterdam. Make it Happen."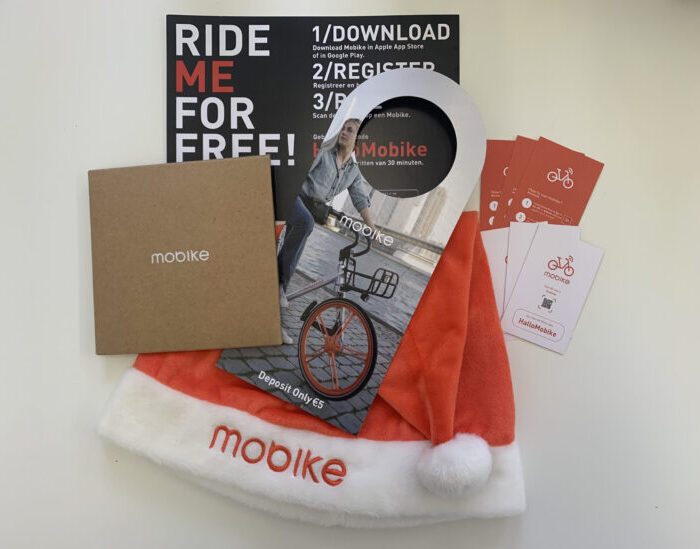 Did you know...
A strong branding of your event ensure brand awareness? This will make your name and logo visible.
In recent years we have organised live online and hybrid events in Rotterdam, the Netherlands and abroad.
Want to know more? Get inspired: