FinTech Event
MK-The Subsidy Community
An event every quarter
MK-The Subsidy Community has already had several events organised by VKOZ. This time it was a knowledge and networking event that has been summarized in a conference. Each time the event takes place at a unique location and has specific themes to share knowledge and network in a surprising way.






An event location in the theme of the event
This evening's theme was FinTech, a combination of the words financial and technology. Innovative financial products and services were central.
The Meeting House is located in a beautiful national monument in a unique location, in the heart of the historic centre of Dordrecht; a former bank building. The Meeting House is an inspiring meeting location consisting of various meeting rooms; each with its own unique look. We used this location for this event.
A combination of fun, knowledge and networking
The event started with a tasting of Rutte Distillateurs. 13 types of gins, junipers and liqueurs were tasted here. They also took care of the giveaway: each participant received a bag with its own special tasting glass. And they arrived on location with their own cargo bike!
This was followed by an extensive dinner in the form of a buffet with various interactive presentations. The speakers of this evening were Michiel Stokman from RevenYou and Micheal Broijmans from Holland FinTech.
"Turn your business event into an unforgettable moment."
VKOZ events & communication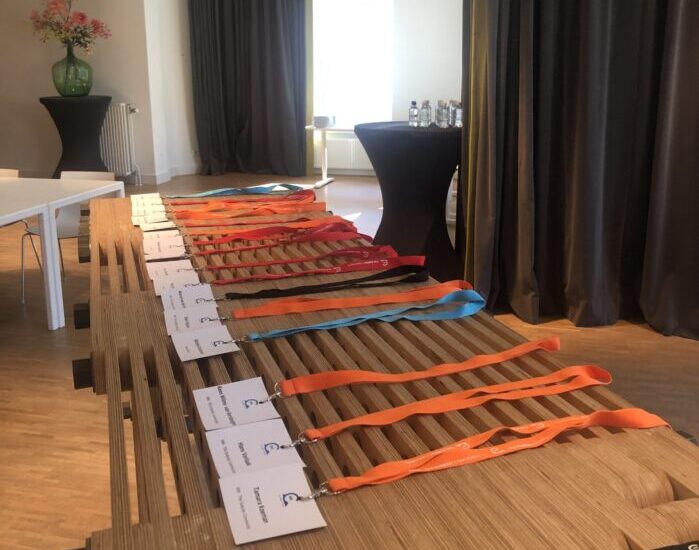 Did you know...
We used lanyards in different colours at the event? This enabled the participants to recognise who has what position.
In recent years we have organised live online and hybrid events in Rotterdam, the Netherlands and abroad.
Want to know more? Get inspired: