University Exploration Days
Council of International Schools
Beautiful international collaborations
Council of International Schools, CIS for short, is a global membership organisation working together to shape international education through services for schools, universities and individuals. The CIS community includes more than 740 schools and 610 colleges and universities from 122 countries. An important part of CIS' services is organising worldwide events. Because the head office is located in Leiden, they use collaborations with a Dutch event agency, and we are proud to say that we are.






Online, but still an experience
During the Covid pandemic, the live events have been converted to online experiences, where the participants still come together, but virtually. They can still learn, network, support and share expertise. The same goes for university fairs. They are organised in different cities and countries, such as Shanghai, Hong Kong, Africa, Switzerland, France and the Benelux. For example, we organised an online event in all 24 times zones.  
The purpose of a fair like this is for international students to get acquainted with different universities around the world. To make this happen, we have developed the online platform that is used during the fair together with GoToCollegeFairs.  
Personal contact in the virtual booth
To ensure that students come into contact with each other, universities can set up their own virtual booth. They can post videos and other information here. In addition, these universities can get in touch with the students through (video) chat, live presentations and much more. Students can also follow Educational Sessions and chat with each other in the Lounge.  
Through these many additions to the platform, we try to give students the experience that comes as close as possible to a live event. This way they can come into contact with each other in different ways and this from their own living room!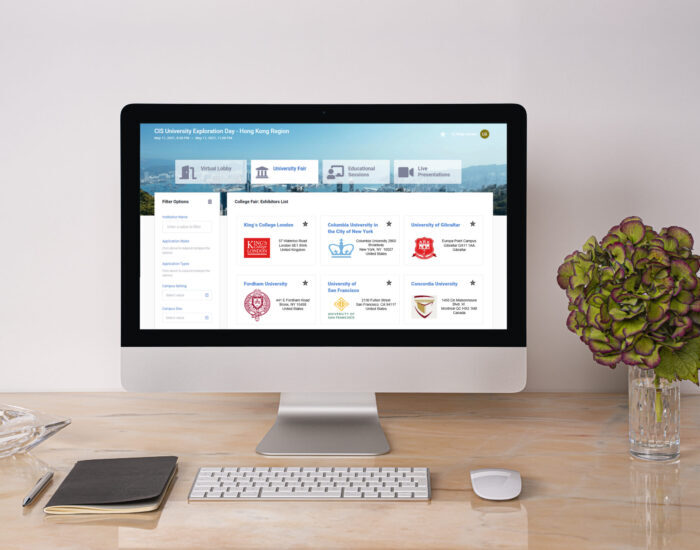 FairStop: the virtual fair platform
"A goal without a plan is just a wish."
Antoine de Saint-Exúpery
In recent years we have organised live online and hybrid events in Rotterdam, the Netherlands and abroad.
Want to know more? Get inspired: