Anniversary Event
MK-The Subsidy Community
A beautiful location from the water
In 2019 MK-The Subsidy Community celebrated their 10th anniversary. The anniversary annual process was organized by VKOZ, including all communication. On September 13, this was celebrated in a special way at the ss Rotterdam, a special location in the city. This former flagship of the Holland-America Line is already a tourist attraction in itself, let alone hosting your own anniversary event there! With a tour through the ship in an authentic atmosphere, guests arrived in The Sky Room, the highest room. On the terrace there is a beautiful view over the Skyline. This was decorated in the customer's branding with, among other things, beanbags and banners.






A spectacular entrance
Willem Maas en Bastiaan Kleiberg, the founders, made their entrance by arriving in a tuxedo with a RIB experience powerboat. They could simply board at the dock from the ss Rotterdam. Now that the group of participants was complete, it was possible to look back at the past ten years in an exhibition. The participants consisted of a staff, external consultants, clients, customers and business partners. Every group had its own colour lanyard, so that everyone could see who they were. Important moments of the last ten years were shown on screens and displays. The event was all about the past, the present and the future.
Another tour to conclude
After the dinner, we organised an inspiration tour in collaboration with Spark design & innovation. The guests went home with a water taxi to the innovation agency, located in the departures hall Oranjelijn. Here, we had a view on the river from an industrial monument that is made of stainless steel and glass. Founding partner Robert Barnhoor talked about all kind of inspiring innovation cases such as the flying car. With the water taxis, the participants went back to the ss Rotterdam for a drink in the Captains Lounge. The surprising programme and the unforgettable moment ended in this way.
"The start of new memories."
ss Rotterdam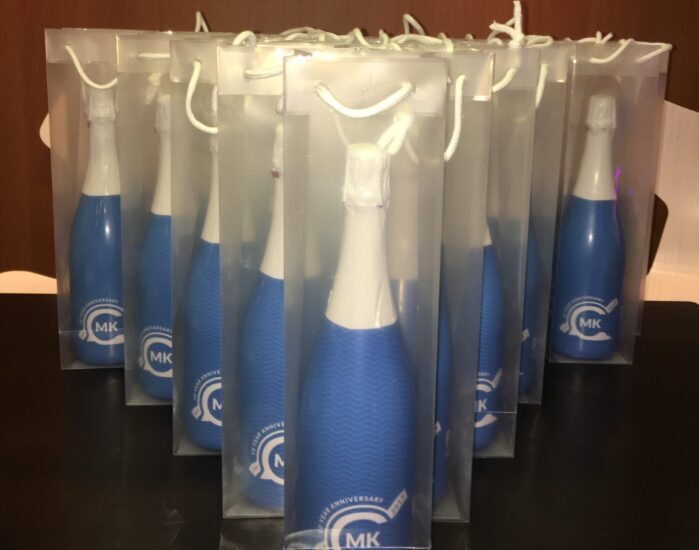 Did you know...
You can also give away champagne as a giveaway, entirely in the branding of your company or event.
In recent years we have organised live online and hybrid events in Rotterdam, the Netherlands and abroad.
Want to know more? Get inspired: